OCM Retreat Possibilities:
The ranch is approximately 80,000 acres near Catarina TX. OCM uses 14,000 acres of the 80,000 acres.
A walk-in game cooler is available. Refrigerators are available in most cabins and trailers. Cabins and trailers have beds, showers, and A/C. You will need to bring your own sleeping bag and towels. Costs per hunt may depend on group size, game combination hunts, time of year, time of season and current hunter demand.
Group Retreats for Church, foster home, Boy Scouts, etc (February-September):
There are single beds and pillows at the ranch. The following list is a guideline for items to consider bringing with you:
Sleeping bag (or sheets/blanket)
Pillow (if you wish to bring your own)
Clothes - no need to buy anything; bring camo or dark colored shirt for hunting.
Hat (camo or dark color)
Jeans/Shorts (any color)
Swimsuit or cutoffs (goggles if you want them)
Sunscreen & Bug Spray
Flashlight – For each person if you have it (but don't buy anything)
Two (2) towels (one for bathing & one for swimming)
Toiletries
Soft drinks, water, Gatorade (any drinks wanted other than with meals)
Pocket cash for McDonald's lunch/rest stop going and returning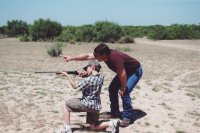 For children that want to hunt, a Youth Hunting License is about $7 and you'll need the child's Social Security Number when purchasing it. Academy and Cabela's are two (2) locations you can get these before the trip. An updated listing of all locations can be viewed at here. However, if "training session" is mentioned, then the training is not needed (this trip) due to supervision that will be given. Note, supervision has to be within normal voice distance.
To view a sample itinerary for a youth based weekend, please click here. We also have a sample retreat letter here. This will help give you an idea of the kind of activities that OCM conducts.
We have also compiled this list of safety topics (other than guns) for your review. Please carefully consider these topics before coming to the ranch.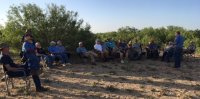 Provided:
Beds, air conditioning, showers, road guides, blinds.
If you have a small caliber gun or other gun that you prefer, please bring it along with ammunition. If you don't, we will supply you with a gun (including adult supervision) and ear protection.
Meeting Place:

Depending upon the departure location for a particular group, OCM will provide you with detailed directions, a meeting place to begin the journey, etc. An OCM representative will have a list of who will ride in which vehicle. Eventually, you'll make it to Catarina TX (about 32 miles from Cotulla TX). Additional detailed travel instructions from this location will be provided by email to invitees only.
Some families plan to send just the child, while others plan to send more family members. If you just want to send the child, they will be taken care of.
Rabbit Hunts: We will use ranch vehicles with guides. Only one (1) child will shoot at a time and an adult guide will be with them. We will be safe and use small caliber guns such as .22 and .410. There's about a 99% chance that each child can take at least one (1) shot at a rabbit. We will field dress the rabbits and cook a few for guests to taste. Other rabbit meat can be taken home if you wish.
Hog Hunts: .243 size guns and larger are needed. We will provide guns and ammunition as needed. There is about a 30-50% chance that an individual person will see a hog. Take head shots only. Hogs are often lost with shoulder shots. If you wish to hunt a hog, we request that you use the meat and or the "head." It will be your meat and/or your animal head. If you do not know how to field dress a hog we will show you how. If you take the head home, you can have a taxidermist do a "European" skull mount ($150?) or you can do it yourself. A "head/shoulder mount" by a taxidermist will be much more. If your child does not want to shoot a hog, your child might be able to sit with another who will. A guide will also be present. Coyotes are also prevalent and hide tanning is about $100.
Game Watch: You do not have to hunt. You are welcome to sit in a blind and watch game (deer, hogs, rabbits, birds) without shooting.